EAGALA Therapy Programme
Equine assisted therapy (EAGALA) is an internationally recognised form of professional counselling that helps clients of all ages address behavioural, emotional and relational issues by using horses as an intervention tool.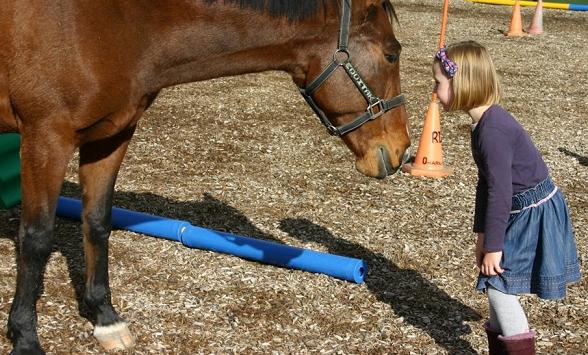 At Wellington RDA we have an EAGALA Equine Assisted Therapeutic Programme that focuses on youth, individuals, families, couples and corporate groups.
Equine Assisted Therapy incorporates horses experientially for emotional growth and learning. It is a collaborative effort between registered counsellor/psychologist/social worker and a horse professional working with the clients and horses to address treatment goals. It provides an intensive and effective therapeutic benefit because it utilizes horses, dynamic and powerful living beings. Participants learn about themselves and others by participating in activities with the horses, and then processing (or discussing) feelings, behaviours, and patterns. This approach has been compared to the ropes courses used by therapists, treatment facilities, and human development courses around the world.
Our Eagala programme also offers Equine Assisted Learning Programmes whose focus is on learning and educational gaols where participants learn specific skills as defined by the individual or group. We have worked with a number of Porirua schools offering Confidence Building Courses, Empathy Enhancement Courses and Behavioural Courses - all of which have been very successful and helped children and young people develop important life skills.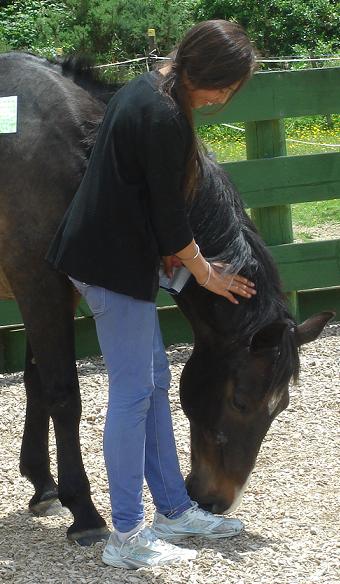 The focus of Equine Assisted Therapy is not riding or horsemanship. The focus involves setting up ground activities which will require the client or group to apply certain skills. Non-verbal communication, assertiveness, creative thinking and problem-solving, leadership, work, taking responsibility, teamwork and relationships, confidence, and attitude are several examples of the tools utilized and developed.
This EAGALA programme addresses a variety of mental health and human development needs including self-esteem, behavioural issues, relapse prevention, depression, anxiety, relationship problems, family dynamics, trauma, abuse, anger management, conflict resolution, personal development and other mental health and behavioural needs. It also addresses educational objectives such as working with business groups and leaders, schools, and other groups and individuals with growth and learning needs.
The EAGALA Team
The Horse - horses have many characteristics which lend them to being effective agents of change, including honesty, awareness, and ability with nonverbal communication. The role of the horses in session is to be themselves.
The Equine Specialist (ES) - chooses the horses to be used in sessions, works with the MH to develop activities, keeps an equine log to document horse behaviors in sessions, stays aware of safety and welfare of clients, horses, and team, and makes observations of horse behaviours which can bring in potential metaphors.
The Mental Health Professional (MH) - is responsible for treatment planning, documentation of clients, and ensuring ethical practice. The MH builds on the ES's horse observations, bringing in the metaphoric and therapeutic/learning relevance of the session.
Testimonials
"As a practicing counsellor I find EAGALA to be non-threatening and respectful, but also effective and powerful. I see a meaningful impact with EAGALA in less time."
"I never knew that horses could be so perceptive to what was going on for someone and then mirror it back in their behaviour."
"I have done a great deal of personal growth work and yet I learned a lot more about myself in this session than I thought I would."
"The experience has also stayed with me a long time, unlike many 'talk therapy' sessions have."
"I was never asked to do anything I didn't want to do and I decided what needed to happen."
"I strongly recommend Eagala to anyone, no matter how much of a novice to therapy they are or how many therapies they've tried previously. It is an experience like no other and a long-lasting one at that."
Having students from our School participate in the EAGALA programme has been extremely beneficial as the children have shown development and growth within the objectives that were set for the programme. A group of our students attended a series of lessons, working with ponies and horses which gave a motivating and real context for their learning. Obvious changes were noticed in the students at school with their levels of engagement in class improving and they seemed more confident and self-assured at school. These comments were reported anecdotally by teaching staff as well as other adults at school. Self-assessments also indicated positive gains. The weekly lessons were a definite highlight of the children's week.
The children selected by their classroom teacher, were students who would benefit from the programme with the aim to develop greater confidence and self-worth. Teachers noticed an increase in their child's confidence back in the classroom and their willingness to take risks with their learning. I thoroughly recommend the EAGALA programme and that you will continue to fund this unique programme to support positive learning for students.
The students we chose were lacking in confidence and reluctant to participate in activities. The change in their self esteem as the programme progressed was remarkable.

For more information contact by phone: 04 237 5550 or email: wellingtonrda@xtra.co.nz