Mary Mountier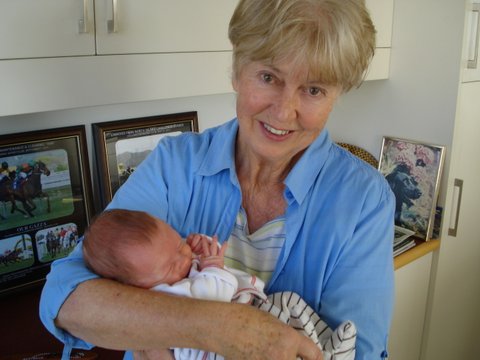 Mary Mountier (pictured with her newest grandchild, Baxter) has been patron of Wellington RDA since the year 2000. She first became involved through former president Jan Nixon, by suggesting to Jan that WRDA could make some money by offering pony rides at the Kapiti Coast Beach races (Mary was on the racing club committee at the time).
Mary has a long and wide involvement with the thoroughbred horse racing industry. She has written seven books on the subject, including a limited edition series beginning with "Notable New Zealand Thoroughbreds", a copy of which was given to the Queen by the NZ Government on her visit here in 1981.
She has also written for local and overseas magazines, served on the Board of the TAB, and owned or part owned a dozen racehorses. Although never a pony club rider, she became an adult learner at the Ferndale riding school in Waikanae, run by one of RDA's founders, Margaret Harris. She admits to being far from a star pupil, but Mary shares a love and respect for horses of all breeds with everyone who is part of the RDA movement. She says she feels "very honoured and proud to occupy the role of patron".